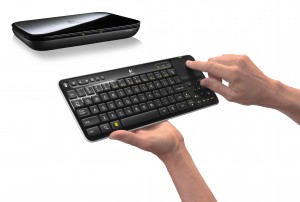 Logitech Revue is the first STB (Set Top Box) that features the newly launched wonderful Google TV. The launch of Box has clearly focused the usage of TV in future. It intended to combine the television to the internet, by fusing them together. It has few new revealing features such as HD calling, myriad apps and a wide range of controls. It has set up a standard for future product and a potential standard.
Overview
Google TV Box has much more good features than a normal STB or a TV Box that connects to the TV Set. Although, there were many failed attempts of earlier WebTV launchers, but today the internet has changed drastically. The Android based Google TV Box has attempted to meet television and internet initiatives. New revolutionary software has been provided to access the online media with the latest powerful interface. It overlays TV content/satellite box from the cable and it can control AV receiver, TV, STB with IR emitters (built-in). The users can view both offline and online content through the Google search bar. Chrome is the built-in browser that supports HTML5, flash videos, music and photos from DLNA device or PC.
Hardware
The Logitech Revue STB is the first product with Google TV. The size of the hardware device is of that of a thick hardcover book but it is a bit lighter. It connects to the cable box or television box through HDMI port and it also has IR blasters, Ethernet and USB ports. Atom CPU of 1.2 GHz is mounted inside but it is not head-turning, which will assist in playing the spiffy videos.
Keyboard is provided by Logitech for navigation and to enter text. Although this it is lighter than other keyboards, it is uneasy to sit with the keyboard instead of a small remote control device. Pressing the shortcut keys can suffice to find the videos but the control over the videos can be a bit troublesome. The gesture pad is not that smooth as that of a mouse, and users might find it difficult to navigate websites or click on links.
Software and the User Interface
Android has debuted with new potential and power and it is used in Google TV. It seems consistent on the use of Android. Google has designed a customizable panel on the left which houses applications, bookmarks and what's-on user guide. On the right of the interface, one could find a small menu for selecting media to play. The peeking radial gradient background is the one what people usually want. The user has freedom to customize shortcuts for the navigation pane. The application follows the reliable and sensible UI guidelines. It allows the user to hop to another source of media or web by pressing the home button. By pressing the search button the user can access the contents from the web or particular application. The best part of Google TV is that it reduces the work of finding something to watch; hence it also minimizes the complexity.
Watching TV
Google TV does not intend to replace cable. It is a companion for TV, which makes television watching easier. It helps in finding certain entertaining programs and acts more as a home entertainment. Google TV searches for video options irrespective of the location. User can search and decide what he wants to watch.
Specifications
General
Manufacturer: Logitech
Part Number: REVUE
Product Type Digital multimedia receiver
System
A/V System Recommended Use Home
Audio System
Output Mode Stereo
Digital Audio Format Dolby Digital output
Connectors
Optical Digital Output Yes
Digital Player (Recorder)
Device Type Digital player (HDD)
Network & Internet Multimedia
Functionality WEB browsing,
Internet video playback
Connectivity Wireless / wired
Connectivity Protocols IEEE 802.3 (Ethernet),
IEEE 802.11n,
IEEE 802.11b (Wi-Fi),
IEEE 802.3u (Fast Ethernet),
IEEE 802.11g
Remote Control
Connections
Connector Type 1 x SPDIF output – Rear,
2 x ( 4 pin USB Type A ) – Rear,
1 x – Rear,
1 x ( RJ-45 ) – Rear,
1 x – Rear
Miscellaneous
Included Accessories IR blaster
Power
Manufacturer Warranty
Service & Support 1 year warranty
Service & Support Details Limited warranty – 1 year
The Bottom Line
As Google TV bridges internet and television, web browsing becomes difficult as compared to the computer. The fonts used are small and websites take longer to load. Stick to the actual computer instead of Revue for watching videos or browsing internet. This device is great to watch football game or sports on large screens in the living room. Watching YouTube videos has great clarity but at the same time some websites such as Hulu, blocks Google TV's access to videos. Google TV does not give a feel of a finished product if it is compared with other competitive products. The best advice would be to stick to the traditional cable television for TV and computer for internet. Waiting for a new improved version of Google TV, would be a better option!