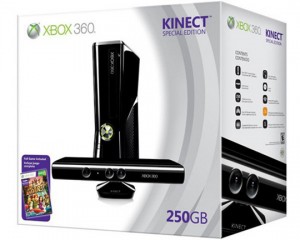 Overview
Early in the year, Microsoft Kinect was arrived initially as Project Natal. Then, they had the prestigious announcement at this year's E3 in Los Angeles, and now on November 4, 2010, it goes on sale in the United States, and just 6 days later it goes on sale in UK. The people who are interested in staying on their existing Xbox 360 and purchasing just the Kinect separately will cost them $149.99 plus tax to own a brand new Kinect.
Kinect uses skeletal tracking and motion, voice operated commands and facial recognition to give the best motion gaming experience. While setting it up, users should ensure that the sensor has some type of resting platform that is elevated 2-6 feet above the ground level.
Technical Specifications
Sensor
Color and depth-sensing lenses
Voice microphone array
Tilt motor for sensor adjustment
Field of View
Horizontal field of view: 57 degrees
Vertical field of view: 43 degrees
Physical tilt range: ± 27 degrees
Depth sensor range: 1.2m – 3.5m
Data Streams
320×240 16-bit depth @ 30 frames/sec
640×480 32-bit color@ 30 frames/sec
16-bit audio @ 16 kHz
Skeletal Tracking System
Tracks up to 6 people, including 2 active players
Tracks 20 joints per active player
Ability to map active players to Xbox LIVE Avatars
Audio System
Xbox LIVE party chat and in-game voice chat (requires Xbox LIVE Gold Membership)
Echo cancellation system enhances voice input
Speech recognition in multiple languages
Navigation
The navigation of dashboard is pretty user friendly, but not as instinctive.  When the user fires up Xbox 360 with the Kinect plugged up, user can make it active by either waving his hand at the screen or through voice activation. By the facial recognition with Kinect ID, users can automatically sign into their profile.  There is also a variety of signal and voice commands at the user disposal and once user become acclimated to the Kinect.
Kinect ID
The ID of Kinect is basically the Kinect's facial recognition system.  Once it is fixed up and activated, it can automatically login a player in their designated profile. I had quite a bit of trouble with this set up process as the Kinect seems to be too sensitive to direct lighting. Living room in the house had some windows, which appeared to be something interfering with user ID process.  This whole process took the longest to set up and it wasn't a pleasant experience.
Kinect Design
The Kinect is 1.3 pound in weight, 2.8 x 11.1 x 2.8 inch horizontal bar located on top of a motorized pivot, which is designed to mix inconspicuously into user entertainment setup. The face houses 3 sensors that are used to track player's voice and movements commands: a monochrome depth sensor, a multi array microphone, and a 640 x 480 RGB camera. Air Vents and the lone connection cable are built into the bottom and sides of the device to keep it cool during long play sessions. A USB/power cable is included for linking Kinect to older Xbox 360 models.
The Bottom Line
In 2010, Microsoft has really stepped up their game with the release of Xbox 360 Kinect. It allows you to have a hands free gaming experience when playing, which creates more fun. So, if you are baseball, football, or soccer fun, then this is an item to really invest in. It will give you the chance to step onto the world arena with your favorite player. You will get a more realistic feel when playing.