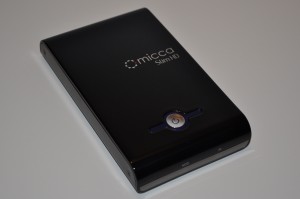 Slim HD Digital Media Player is a hard drive based transportable media drive released by Micca, last year. It is based on typical 2.5" notebook hard drive, which can handle a range of formats and containers and also had 720p HDMI output. A focus on the compact form factor, an ability to use it as a portable USB drive and ease of use are some important features of Micca Slim-HD.
Overview
Basically, Micca Slim-HD 1080p provides a playback of all popular music, photos, video and audio formats up to 1080p resolution. Its 1080p HDMI output sends clear and sharp audio and video in pure digital format to HDTVs. Micca Slim-HD is bundled with a remote, USB cable, composite A/V cable and AC adapter. It has an internal drive bay that accommodates all standard SATA hard drives of 2.5" height for up to 750GB in storage capacity. It can also be used to play movies in-car video system, as it has optional car power adapter.
Design
The DMI (Digital Media Player) is quite slim and small, at 5.35" (L) x 3.15" (W) x 0.79" (H). In design it is as same as other 2.5" portable hard drives, excluding slightly thicker. It is smaller than most of the other HD media boxes such as Seagate's GoFlex TV and WD TV Live models, which both go beyond 4" x 5" x 1.5". At the top face of Slim-HD, there is logo of Micca Slim-HD, a power button and LED. Its front side contains the remote's IR sensor and HDD activity light. The back side includes a 3.5mm AV out, a mini-USB port, an HDMI port and a 5.2V DC input. To the right side there is SDHC card reader to round out the ports.
The remote of the HD is very small as well as light, but somewhat confusing due to its buttons as they are not organized properly. Once the button placements are figure out, it works well. It has an integrated SD card slot for those people, who want to put the memory card of their camera onto the TV directly for viewing purpose.
The UI (User Interface) of HD is very clean, intuitive and functional with straightforward menu system. Its home screen is black and has 5 buttons such as Movies, Music, Photos, Files and Settings. Its files and folder are presented in alphabetical order in white text on black background.
Features
With broad audio and video codec and file format which supports up to 1080p Full-HD resolution and 20-50mbps, Slim-HD is truly a next generation digital video device. Its internal 2.5" drive puts it apart from GoFlex and Live Plus, which don't have internal hard drives.
The following table gives a brief summary of Micca Slim-HD Specifications:
| | |
| --- | --- |
| Features | Supported Formats |
| 1080p Video | MPEG1, MPEG2, MPEG4-XVID, DIVX, H.264, H.263, WMV9/VC1 |
| Video Files | MKV, AVI, TS/TP, MP4/M4V, MOV, VOB, PMP, RM/RMVB, MPG, M2TS, FLV, WMV |
| Video Codecs | H.264/AVC, VC1,MPEG1/2/4, DivX/Xvid, RMVB |
| Audio Formats | MP3, WMA, OGG, FLAC, APE, AAC, AC3, ATRA, DTS |
| Photo Files | JPG, JPEG, BMP, GIF, PNG |
Slim-HD has been made to use with all TVs, HDTVs and home theater systems with extensive connectivity. Though there is no cooling mechanism in Slim-HD, it is completely stable and doesn't heat up much which points to the low power consumption of F10 SoC. Other than that, Slim-HD has more compatibility than WD TV with more compressed 1080p video.
The bottom line
Micca Slim-HD is a compressed yet very powerful and transportable digital media player, which has playback capability of all popular music, photos and videos. It is also capable of decoding all popular video formats up to 1080p resolution. It is really an interesting proposition, which is a great entertainment source for business and vacation trips.