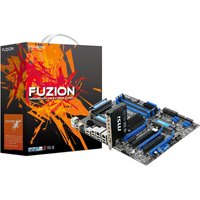 Overview
MSI has launched a very good series of high-end motherboards in the past. Fuzion Series is the most popular motherboard MSI has launched, that uses the much discussed and debated Lucid Hydra Chip-200. This super-high end motherboard targets gamers and enthusiasts. This latest Big Band Fuzion series offers loads of interesting features along with the popular Lucid Hydra technology and cross vendor multiple GPU support.
Features
Fuzion motherboard uses Inter P55 chipset which supports Intel CPU's such as Core i7, Core i5 and Core i3; that come in along with the LGA 1156 socket. This chipset offers 12 USB 2.2 ports, 6 SATA 3 Gb/s ports and it supports up to 16 GB of DDR3 memory. Apart from this, there are two additional SATA 3 Gb/s pairs, supported by the JMicron JMP322 controller for each port. Nowadays, SATA 6 Gb/s and USB 3.0 ports are equipped with many high end mainstream motherboards and latest chipsets and it is a rising trend; MSI could have added support for it. But their absence in the Big Band Fuzion series is a big surprise.
The rear panel of the motherboard is quite sophisticated as there are Fire Wire ports, PS/2 ports, Ethernet Dual Gigabyte ports, 10 USB ports (including 2 ports for eSATA/USB) and OC Dashboard connectors which are a bundled overlocking device. It serves two main functions. First, it displays or shows the initialization of the status of subsystems carried out during POST that helps in hardware fault diagnosis or inappropriate functionalities due to BIOS settings. Separate user guides is provided, which gives detailed instructions and debug codes using the OD Dashboard. Secondly, one could overclock the memory and CPU and then tweak the chipset voltage, the memory voltage and the CPU voltage through the Windows. The values can be checked from the OLED screen of the device. Effective memory and CPU speeds can be checked by the use of CPU-Z. Four dip switches and a small array of connectors are present near the RAM slots. These connectors are specially designed to allow checking of voltages through the multi-meter. The dip switches on the motherboard boost the CPU voltage, CPU_VTT voltage, memory voltage and chipset voltage. It also increases the adjustments in the voltage range in the BIOS.
This motherboard is equipped with a utility called as MSI Control Center, which shows system information and helps the user to overlock it for various parameters by simply dragging the sliders. Three additional overclockings are present for gaming, cinema and cooling. This overclockings are made easy by providing the OC Genie which is an automatic overclocking mechanism. OC Genie comprises an OC Processor and a switch. Upon activating the switch, the OC Processor calculates the overclocked optimum voltages and speeds, and then it applies to the BIOS values. This OC Genie has overclocked the Intel Core i7-870 to 4.0 GHz from 2.93 GHz, without any issue. The complete package comes with a separate MSI user guide for overclocking, OC Genie and MSI control Center.
Technical Specifications
CPU
Supports Intel i3 / i5 / i7 based processors
Pentium G6950 in LGA1156 package
Chipset
Intel P55 Chipset
Hi-Speed USB (USB2.0) controller, 480Mb/sec
6 SATAII ports with transfer rate up to 3Gb/s
PCI Master v2.3, I/O APIC
ACPI 2.0 compliant
Serial ATA RAID 0/1/5/10
Integrated AHCI controller
Lucid Hydra 200 Chipset
Supported graphic libraries
DirectX 9
DirectX 10
Main Memory
Supports 4 unbuffered DIMM of 1.5 Volt DDR3
1066/1333/1600*/1800*/2000*/2133*/2300* (OC) SDRAM, 16GB Max
Supports 1Gb/ 2Gb/ 4Gb DRAM size
Supports Dual channel mode
Slots
3 PCI Express gen2 x16 slots
PCI_E2 / PCI_E4 / PCI_E5 slots will be x16/ x16/ x0 or x16/ x8/ x8
supports ATI Crossfire & Hydra N-mode, A-mode & X-mode
2 PCI Express gen2 x1 slots
Only PCI_E1 supports installing the QuantumWave Audio card
2 PCI slots, support 3.3V/ 5V PCI bus Interface
On-Board IDE/SATA
One Ultra DMA 66/100/133 IDE controller integrated in JMicron 363
Supports PIO, Bus Master operation modes
Can connect up to two Ultra ATA drives
SATAII controller integrated in Intel P55/JMicron 322 / 363 chipset
Up to 3Gb/s transfer speed
Supports six SATAII ports (SATA1~SATA6) by P55
Supports four SATAII ports (SATA7~SATA10) by JMicron 322, support SATA RAID 0/1/JBOD
Supports two eSATA / USB combo port by JMicron 363
Supports AHCI controller with AHCI / SATA RAID 0/1/5/10 by P55
SATA7 & SATA8 support RAID 0/1 & JBOD mode by 1st JMicron JMB322
SATA9 & SATA10 support RAID 0/1 & JBOD mode by 2nd JMicron JMB322
Audio
QuantumWave Audio card
Creative EAX Advanced HD 5.0
THX TruStudio PC
Creative Alchemy
7.1 Channel High Definition Audio Codec with jack sensing
Chipset integrated by Realtek ALC889
Compliant with Azalia 1.0 Spec
Meet Microsoft Vista Premium spec
LAN
Supports two PCI Express LAN 10/100/1000
Fast Ethernet by Realtek 8111DL
IEEE1394 / FireWire
VIA VT6315N chipset
Supports up to two 1394 ports. (Rear panel x1, pinheader x1)
Transfer rate is up to 400Mbps
Internal I/O Connectors
ATX 24-Pin power connector
8-pin ATX 12V power connector
CPU x 1 / System x 4 FAN connectors
CD-in connector
Front panel audio connector
Front panel connector
1 x chasis intrusion connector
2 x USB 2.0 connectors
10 x Serial ATAII connectors
1 x ATA133 connector
1 x IEEE1394 connector support additional 1 port
1 x GreenPower Button
1 x Reset Button
1 x Power Button
1 x Clear CMOS Button
1 x SPDIF-out connector
1 x TPM module connector
1 x OC Genie Button
1 x Over-Voltage switch
1 set voltage check point
Back Panel I/O Ports
1 x PS/2 Keyboard
1 x PS/2 Mouse
2 x eSATA / USB Combo ports
1 x IEEE1394 port
8 x USB 2.0 ports
2 x RJ45 LAN Jacks
1 x D-LED2 panel connector
BIOS
The mainboard Plug & Play BIOS
Desktop Management Interface(DMI)
The Bottom Line
The MSI Big Bang Fuzion motherboard is an astonishing high end product which is nearing perfection. Lucid Hydra 200 should not be the only reason to purchase it, presently; this motherboard is a good gimmick at the best. MSI Big Bang Fuzion accompanies heaps of features and it provides additional scope for high end users to play around. It is very well designed and the price is appropriate to the features and technology it has used in the making. This multi features motherboard is a brilliant product for users who don't mind spending extra cash for the exciting new technologies with the features.