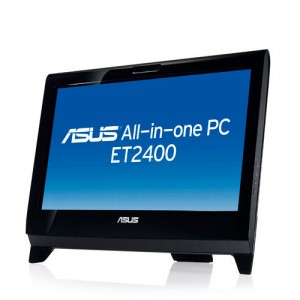 Overview
ASUS has unveiled a new line of ET2400 series, which will bring high definition video viewing, large displays and powerful processors to its customers. There are seven models each with a 23.6-inch display screen with full HD at 1920 x 1080 pixels, as well as a Blue-ray drive or DVD burner. More specifically, it also includes USB 3.0, Bluetooth 3.0 and TV tuner for you to choose.
The latest model of ET2400 series is ET2400XVT, which is powered by Intel's Core i7 CPU and comes with NVIDIA 3D Vision and 120Hz 3D display technology. The ET2400XVT features a removable panel to facilitate memory (RAM) upgrades, making it the first all-in-one Desktop that users can upgrade on their own.
Features
The ASUS ET2400XVT features the exclusive SonicMaster Technology for pure audio reproduction. This technology replicates the experience of listening to a surround sound system and has a volume range, which is wider than ordinary all-in-one Desktops. It uses the best codecs to deliver an audio experience with maximum clarity across a wider audio spectrum and minimum noise distortions. It reproduces more distinct and richer vocals at a broad frequency spectrum, while bass enhancement at the lower end of the audio range delivers deeper and richer bass. So whether you are playing games, listening to music or watching movies, it delivers the appropriate aural experience.
The ASUS All-in-One ET2400XVT uses NVIDIA 3D Vision technology to deliver movies and games in Full HD 3D. A library of over 400 NVIDIA 3D Vision-compatible Desktop games ensures that the enjoyment never ends in this virtual gaming world. It also comes with an optical touch screen, which lets users easily scroll through WebPages, rotate images, or zoom in and out with their fingers.
The ASUS Super Hybrid Engine Technology works in tandem with the latest Intel processors to enhance system performance by up to fifteen percent with just a press of a button. ASUS also offers several solutions, which can be put under viewer's curiosity with the technology. You can watch news, TV shows, your favorite talk show, or sport matches directly from your PC, since it is integrated with TV tuner card.
Technical Specifications
LCD
23.6 inch
120 Hz 3D panel
Display
1920 x 1080
Operating System
Genuine Windows 7 Home Premium 64-bit
Touch Screen
Multi Touch
CPU
Intel Core i7 – 740QM
Cores per processor
4
Operating Frequency
1.73 GHz
Chipset
Intel HM55 Chipset
Memory
DDR3 1333 MHz 2GB SO-DIMM x 4 slot, 8GB max
Hard Disk
1 TB SATA II 7200rpm 3.5 inch
Optical Drive
Tray-in Blue-ray reader
Graphics
NVIDIA GTX460M 1.5G (3D)
Build-in Camera
1.3M
LAN
10/100/1000 Mbps
Wireless
802.11 b/g/n
Audio
ASUS SonicMaster Technology
Side IO port
USB 3.0 x 2
SD/ SDXC support
Headset x 1
Microphone x 1
IO Port
Power Input x 1
USB Ports x 4
LAN Port
D-sub input X 1
HDMI-Input x 1
TV Jack x 1
Power Supply
230W
Dimensions
582(W) x 495(H) x 50(D)
Net Weight
Less than 13 Kg
Keyboard + Mouse
Eee Wireless Keyboard
Color
Black
Accessories
Keyboard
AC Adapter
Power Cord
Manual
Warranty card
Remote control(Bundle with TV)
3D Glasses x 1
Comparison with Dell
| | | |
| --- | --- | --- |
| Specification | Dell Inspiron One 2310 | ASUS ET2400XVT |
| Processor | Intel Core i5-460M | Intel Core i7 – 740QM |
| Chipset | Intel H57M | Intel H55 |
| Graphics | AMD Radeon 5470 1GB | NVIDIA GTX460M 1.5GB (3D) |
| Memory | 2x 2GB Nanya DDR3-1066, 1x4GB Hynix DDR3-1066 7-7-7-20-1T, 4GB max | DDR3 1333 MHz 2GB SO-DIMM x 4 slot, 8GB max |
| Hard Disk | Western Digital Caviar Black 1TB 7200RPM | 1 TB SATA II 7200rpm 3.5 inch |
| Dimensions | 570 (W) x 420 (H) x 90 (D) | 582(W) x 495(H) x 50(D) |
As you can see that ASUS have high performance and also provide more features than Dell.
The Bottom Line
The ASUS All-in-One PC ET2400XVT has technologies that deliver unprecedented levels of performance and speed, which changes the way you play and work. Enjoy the ultimate Full HD home entertainment experience through ET2400XVT's 6:9 aspect ratio and 23.6-inch Full HD display. In addition, it can be placed in anywhere thanks to a VESA wall mount. They are designed to lure you into an immersive multimedia world with surround sound system and HDMI compatibility.
It is an advanced All-In-One touch screen Desktop dedicated to entertainment media. This product will be particularly appreciated by those at home, who have little space and are looking for a compact and comprehensive, more versatile and practical than a traditional desktop PC.