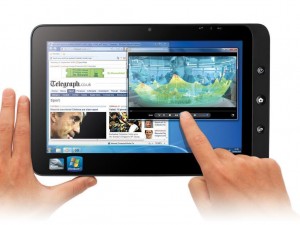 Novatech, a leading technology retailer from UK, entered the foray of tablet PCs recently with the launch of its first product, the nTablet. The tablet's launch in late October has received much positive feedback from consumers and it seems to be gaining popularity steadily. It is even dubbed as 'Uk's first Windows touch screen tablet', but whether it can turn out to be an iPad Killer, only time can tell.
Overview
In looks, the Novatech nTablet is very similar to the ViewSonic ViewPad. One might even find it hard to differentiate the tablets, if they are placed together with their brand tags removed. Both the tablets run dual operating systems, Android 1.6 and Windows 7. There is a lower priced version with just Android or no OS available as well. Having Windows 7 really boosts the productivity, since the tablet can run multitude of applications. But the touch sensitivity of the screen can be a problem with the OS's on-screen keyboard.
Running a full OS Windows 7 on a tablet does have its limitations, since it is necessarily made for desktop application. Multi-tasking can tend to get sluggish. Also, the Android OS is an older 1.6 version which will limit functionality, as there is no Flash support and also the apps for new 2.1 version won't work. The firm does plan to include Android 2.1 in the upgraded variant next year.
The look and feel of the tablet is quite positive but media playback can be an issue. The Intel GMA 3150 GPU is fine for playing 720p video, but trying to view 1080p videos can be sluggish and frustrating. Novatech plans to resolve this issue by upgrading the hardware with Intel's Oak Trail family of processors in the coming year. The new processors are also said to be better at power saving and can hence increase battery life. Less power consumption will mean less heating. But heating doesn't seem to be a problem with the nTablet as the fan is hardly audible.
Specifications
The tablet comes with a 10.1" screen which is surrounded by a glossy black bezel/border with the Novatech brand name clearly visible at the bottom. The right-side bezel has three buttons; power, home and enter. On the top, situated in the middle, is a 1.3 megapixels camera and there are LEDs showing power, connectivity and battery status on the right hand side. The rear side is brushed aluminum.
The 275 x 170 x 14mm tablet weighs just 725g and is designed in such a way that majority of the connectors and ports are situated on one edge of the system (left side). There are two USB ports, a mini D-SUB to DVI-I, micro-SD card reader, audio-out, microphone and a power port. On the other side, there is a SIM card slot for 3G connectivity and a reset button. There are also two cooling vents placed on both the edges for better heat management.
On the inside, the tablet gets its processing power from an Intel Atom N455 1.6 GHz CPU, which features Hyper-Threading technology to boost the single core processor's power. Novatech nTablet comes with 1 GB 1333 MHz DDR3 memory and a 32GB Solid State Drive (SSD). It has a 10.1″ 1024 x 600 pixels capacitive multi-touch screen backed by the Intel GMA 3150 GPU, which can easily handle full screen video, Windows Aero and Flash content.  For wireless connectivity, it has integrated 801.2 b/g/n, 3G n and Bluetooth v2.1+EDR which facilitate connectivity almost everywhere.
It also has gravity censor (like the iPad's) which detects and automatically adjusts the screen's orientation. The nTablet has a 4200mAH battery which promises up to 5 hours of power.
The tablet is powered by Windows 7 operating system which also comes pre-installed with the Microsoft Office 2010 Starter Edition. And the BIOS of the tablet can be accessed using an external keyboard; albeit it has limited functionality.
The Bottom-line
The company Novatech, is well known for its great products and superb customer support. The tablet is also cheaper and bigger (screen size) than other tablets, especially the ones running Windows 7. Although Windows 7 can face performance lag on the Atom processor, the tablet may be a lot lucrative with the proposed new processor and newer versions of Android. All in all, a solid built, value-for-money tablet.