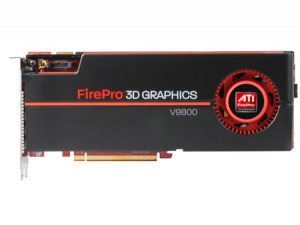 Overview
AMD launched an ultra-high-end workstation graphics card, the ATI FirePro V9800, the latest addition to the FirePro family, which is equipped with six small display ports. It is the most powerful graphics card AMD has ever created. It shares a lot of features with its predecessor V8800, only performance differentiates it with the V8800 and rest of the FirePro line.
ATI FirePro V9800 has a total frame buffer of 4GB, which is double that of the V8800. This large frame buffer allows the GPU to handle much bigger data sets for higher quality depecting at higher resolutions. The GPU has 1600 Shader Processor Cypress core, which supports Shader Model 5.0 Direct Compute, OGL 4.0 and DX11.
With this product AMD is taking aim on the workstation market and intends to regain lost ground. It is well suited for professionals who work with the most intensive 3D environments and also with the largest data sets. This card is used to solve difficult, mission-critical problems, like helping oil and gas companies to provide more effective means of production and transportation, helping architects to plan and construct buildings, and even helping engineers design and build cars.
Apart from being the ideal professional graphics solutions, I am pretty much sure that you can use it for your games.
Specifications
GPU and Memory
Memory Interface
256-bit
Stream Processors
1600
Memory Size
4GB
Memory Type
GDDR5
Memory Bandwidth
147.2 Gbps
Core Clock
850  MHz
Memory Clock
1150 MHz
Display Outputs
Display Ports
6
Maximum Resolutions
2560 x 1600 @ 60Hz
Stereo
3-pin DIN
API / Feature / OS Support
DirectX
11.0
OpenGL
4.0
Shader Model
5.0
ATI CrossFire Pro Support
Yes
ATI Eyefinity Technology Support
Yes
ATI FirePro S400 Synchronization Module Support (for Framelock / GenLock)
Yes
Stream Computing
Yes
OS Support
Microsoft Windows 7, XP and Vista, Linux (32-bit or 64-bit)
Thermal / Power / Form Factor
Max Power
Less than 225 Watts
Slots
2
Form Factor
Full Height / Full Length
Support Energy Star 5.0 Compliance
Yes
Bus Interface
PCI Express 2.1 x16
System Requirements
RAM
512 MB
Optical Drive
CD-ROM for installation
Power Supply
One 2×3 and One 2×4 auxiliary power connectors
Features
ATI Eyefinity Technology –This technology enables more efficient multitasking and improves visualization applications. It supports up to six independent displays, as it have six mini display ports.
AutoDetect Technology – As a user opens new applications or moves between applications, the graphics driver settings are automatically configured for optimized performance.
3D Stereoscopic Support – Effortlessly work in stereo with support for 3-pin active sync stereoscopic glasses.
Full 30-bit Display Pipeline – It enables more color values than 24-bit products for superior visual fidelity and more accurate color reproduction.
Full Shader Model 5.0 Support – It helps to create highly complex scenes and geometry without putting the load on CPU.
OpenCL 1.0 – Industry standard API – Open, multiplatform development platform to help enable broad adoption of heterogeneous computing.
Certification – When used with professional 3D software packages, it ensure reliability, compatibility and the highest level of performance.
DirectX 11 and OpenGL 4.0 Advanced Features – Enables optimal performance in leading applications.
Framelock/Genlock support – For smooth multi-display visualization.
A Closer Look
AMD has modified the latest version of FirePro cards to remain relatively quiet, even with high-end models, and V9800 users will benefit from it. Upon start up, the V9800 powers on quietly and stays that way during normal use.
The ATI FirePro V9800 has the same basic design as its predecessor V8800 with a svelte red-on-black color scheme. It uses a matte-black heatsink assembly that incorporated ATI's dual-slot copper heatpipe cooling solution. On the front side of the card, there is a 6-pin and an 8-pin PCIe power connector and the maximum board power is 199W (down 9W from the V8800). The embedded fan exhausts air out of the back of the card and also out of the system, which keeps components cooler inside the case.
The most significant advance feature of the ATI FirePro V9800 is multi-display support.  It supports up to six monitors with a maximum Resolution of 2560×1600 @ 60Hz.   This means a dramatic increase in display density and visualization capability for markets from medical imaging to digital signage, CAD and DCC.  It is equipped with 4GB GDDR5 memory, offering industry visual quality and leading performance. Its performance increases significantly as compared with the previous products of FirePro family, including 2.27 times increase in performance, and also 1.25 times increase in stream processor performance.
The Bottom Line
This is the fastest ATI FirePro model available in the market to offer six outputs.  It offers a ton of 3D performance and a considerably larger frame buffer. The cost of the FirePro V9800 is quite high, but it offers an impressive performance and features. It delivers the ultimate in computational power and performance. For outstanding performance and flexibility, this graphics card is the ideal professional graphics solutions.